Radio Microphone Hire
View Radio Mic Hire - Single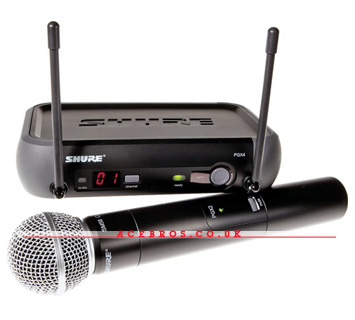 £36.00
per day
Radio Mic Hire - Single
1x Radio Microphone System
1x Transmitter
1x Receiver
Includes audio lead and batteries
View Radio Mic Hire - 4 Pack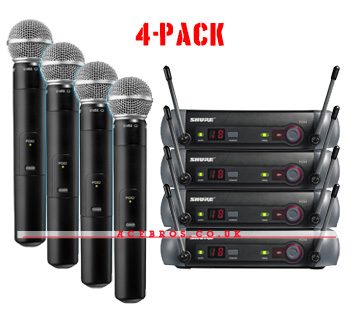 Save 10%
£129.60
per day
Radio Mic Hire - 4 Pack
4x Radio Microphone System
Includes audio lead and batteries
View Custom Quotation Request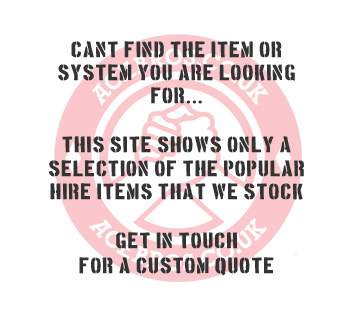 Save 10%
£SAVE
per day
Custom Quotation Request
Request a Custom Radio Mic Hire Quote
10% Off – New Customer Same Day Booking
We Are Event Hire Specialists
We Cater for all Event Types
Dry Hire or Full Service Hire
Roam the Stage Wirelessly and Worry Free
Radio Microphone Systems utilise a battery-powered radio transmitter, the audio signal from the microphone is transmitted by radio waves to a nearby receiver unit, which will be connected with a cable to audio equipment like a mixing console.
You can dry hire Radio Microphones systems or we can deliver, install and collection, just ask for Full Service Hire on the contact form below.
Professional UHF Radio Microphone Systems
Available as a handheld microphone with integrated transmitter or body-pack transmitter, which connects with a thin wire to a headset or lavalier microphone.
Hire Radio microphones individually or as sets, for vocals or instruments, recording or sound reinforcement applications.
We offer long or short rental periods on all microphone hire items and systems.
ACE Quality Rental Guarantee – as standard!
All our Radio Mic Hire and Event Equipment stock undergoes routine maintenance and PAT testing by our audio technician bros to ensure optimum performance all the time, every time.
Hire Radio Microphones from ACE Bros with confidence in the knowledge, that before any equipment rental leaves our warehouse, it has been fully prepped and tested.
Can't find the Radio Microphone you are looking for? Not sure which one?
As your brothers in Sound Hire we are here to help, so get in touch via the contact form below and we will happily discuss custom radio mic hire solutions.
"We chose ACE Bros for our alumni event because they offered such a competitive price. All correspondence was replied to quickly and efficiently. On the night of the event all members of the team were friendly and helpful. The stage and sound were fantastic, just what we needed. I wouldn't hesitate to recommend ACE Bros and we will definitely use them again for future events."

Sarah J
2017
"I've used ACE Bros a number of times over the past few years for equipment hire for varying sized gigs, and every time they've been fantastic. Prices are incredibly competitive, and the service is personal and prompt, every time. Gear is always in mint condition, and they've always been happy to go the extra the mile in terms of support, and making sure everything's fine. Would whole-heartedly recommend!"

Dave P
2017
"Brilliant service – delivered and picked up equipment on time and the PA system was great value. Hired for a charity outdoor sports event. Good price, great kit. Thoroughly recommend."

Matt S
2017
"I contacted ACE Bros kind of last minute needing a complicated outdoor set up due to the diversity in acts, and didn't know much about sound. They made my life so easy and really added to the event! Great team to work with, they we're great at getting back to me when I had questions, friendly and knew their stuff. Would recommend them to anyone!!"

Kate M
2017
"As a start up venue we were totally amazed at how knowledgeable and helpful ACE Bros were. Loads of advice, good prices and top quality equipment, don't bother going anywhere else!"

Reverb Gigs
2016
"ACE Bros are always a pleasure to work with. They provide for every occasion and can't do enough to help make your event run smoothly. No matter your budget, they provide a very professional service and are always happy to help. Highly recommended."

Charlotte B
2015
"ACE Bros provide reliable high fidelity equipment at the most competitive prices out there, along with a very helpful & knowledgeable team willing to go that extra mile you can rest assured they are able to take care of all your audio & lighting needs. Highly recommended!"

Robert A
2015
"ACE Bros have provided sound support on numerous occasions for Ealing Club CIC activities as well as The West Ealing SoundBite Festival. Our end users both musicians, fans and sound engineers has always been delighted with the end result of equipment provided by this locally based company. Staff are always keen to gauge feedback on all aspects of their service to ensure continual improvement of the ACE Bros brand."

Alistair A
2015